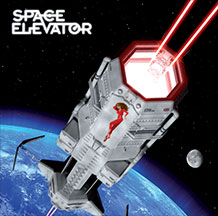 Though already released in March 2014, Space Elevator's debut album  is only recently available on iTunes. It contains excellent songs and very good performances of all artists involved, including veteran bass player Neil Murray and impressive singer The Duchess. If you like your AOR or Pop Rock classy, female fronted & with some theatrical hints this is definitely for you! Melodicrock.nl rating: 91/100.
Find out more about the album in an interview with guitarist David Young (of musical We Will Rock You fame).
To see some of the well done videos check out Space Elevator's YouTube channel here. An example:
Another classy affair is the debut album of Cats In Space that came out in October 2014.
It features 70's style Pop music that sounds like 'E.L.O. meets REO Speedwagon round at 10CC's house' (Rock 'N' Growl), has brilliant songs and features some big names: Andy Scott (of Sweet fame) and Mike Moran. The quality of the performances is A+ all over. Some reviewers label the album as a future classic. Melodicrock.nl rating: 85/100.
To find out more about the band see their website, Facebook page and YouTube channel. A clip of one of the songs from the album: