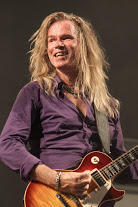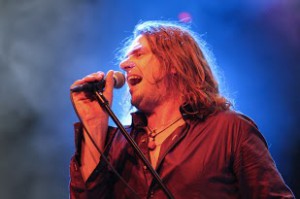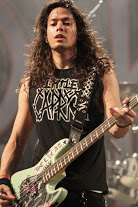 In 2014 guitar player Adje 'Adrian' Vandenberg is finally back with a new album. And a new band, comprised of largely unknown youngsters. Singer Jan Hoving immediately catches the ears because he sounds a lot like David Coverdale. He used to be in the band that played as a support act in Tilburg for Whitesnake 2008 tour (video). No wonder Vandenberg contacted Hoving when the local soccer team FC Twente became national champion in 2011 and asked him to compose and play a song for the occassion.
Musically Adrian Vandenberg certainly has been around. He refers to bands like The Free, Cream, Bad Company and Led Zeppelin as his main influences: seventies bands with a pure, honest and 'open' sound. And it showed, especially in his first (professional) band Teaser and Manic Eden (song). Although mostly known for his tenure in Whitesnake and his own band Vandenberg (hit song: Burning Heart) there are direct lines between Teaser, Manic Eden and his new band Vandenberg's Moonkings. It's the mark of an authentic songwriter.
Educated as a painter, Vandenberg spent the past 14 years largely with his other passion. And raising his now 14 years old daughter. But after playing the FC Twente club song live in 2011, things started to roll again. And rock.
So on February 21, 2014 – shortly after turning 60 – the man is back in the limelight, having a release party for an album with a brand new band of young musicians (photos) who are eager to take the world by storm (video). And he finds himself doin' a lot of interviews (like this one on Jan. 13, this one on Feb. 27 and this one on March 5) about the genesis of the album.
Comebacks are not necesarilly a good thing though. So: is this album worthwhile? It sure is! It's a coherent set of songs firmly based on a blues rock foundation and played by a remarkably good band. If you loved Manic Eden or a band like Thunder – this definitely is for you. It has a remake of Whitesnake's Sailing Away (original version) on it – with David Coverdale on vocals – that fits in nicely. Here's the official video for the first single Breathing and here the video for second single Lust And Lies. The overall quality is high and therefore highlights are hard identify. So for what it's worth: at this point Lust And Lies, Good Thing, Nothing Touches, Steal Away and Leeches (that may be about his former bandmates who sued him) are my personal favorites.
Reviews on the internet are generally positive: Lords of Metal (88/100), Über Röck, Metal Temple (90/100), PlanetMosh (80/100), getreadytorock (90/100) and RockUnitedReviews (80/100). Powerplay Magazine UK even scores it 100/100 (review here, scroll down to the bottom). It's the album of the month March in dutch Aardschok (85/100).
The album elaborates cleverly on the patterns that were laid out by the seventies bands mentioned above. Real musicians with real instruments and craftsmanship having fun while making music that's to be played live.
At the release party in 2014 they played songs from the album (this is Breathing live) and a few songs from former bands, e.g. Whitesnake's Judgement Day (here's some footage of the Moonkings playing it live) and Here I Go Again, Vandenberg's Burning Heart (here's some live footage) and Manic Eden's Pushing Me. But also somewhat surprising covers like Jeff Beck/Stevie Wonder's Superstition (this is Beck's version) and the Screamin' Jay Hawkins written I Put A Spell On You (this is him performing it in 1966 and later), one of the biggest hits of Creedence Clearwater Revival (this is the version they played in Woodstock – and here's some Moonkings live footage). The Moonkings played it all very solid and with a lot of fun.